Sarah Mac on 27th May 2022
Off camping soon? Worried about how you'll keep your valuables safe? It's a sad fact that tents can be a prime target for thieves. So it's vital that you take a few simple steps to protect your belongings. Whilst most of it is down to common sense, there are some useful tips you could benefit from if you're keen to remember your camping trip for all the right reasons.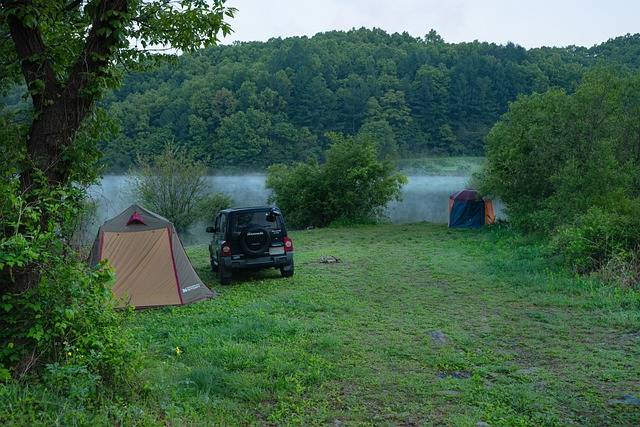 1. Choose a safe location to pitch
A busy campsite may not be your first choice, but it's going to be a whole lot safer than that secluded spot nestled in the trees. The more camping neighbours you have, the more eyes to keep watch over each other's things.
Would-be thieves are more likely to target tents off the beaten track, especially those concealed by vegetation that will give them cover. So try to choose a location that's close to communal areas, with your doors facing into the crowds.
Also, when you arrive, be sure to take a little while to get to know your neighbours. You'll feel a lot more comfortable if you've got someone around to watch over your stuff when you're out and about for the day.
And pay a visit to the site owners too. They'll help to reassure you on the subject of security, advise you what's available to help you keep your things safe, and let you know who to contact if you need any help.
2. Bring only essentials
Tech and other valuables may be nice to have with you, but think carefully about whether you actually need everything you'd stashed in your rucksack. It's unlikely you'll need any jewellery, and that iPad or ear pods are probably not going to get much use once you settle into your outdoor surroundings and fix your gaze - and ears - on the wildlife and nature that surround you.
Whilst it can be tempting to bring along that super-expensive camera to capture all that superb scenery, do think about whether you'll be happy to carry it about all day. Could you make do with your phone camera? Or at least just take the basic equipment with you?
3. Take a sensible approach to storage
When it comes to storing valuables in your tent, you've got to bear in mind that it doesn't take much for a determined thief to get through canvas. So a padlock isn't going to cut it. In fact, a lock on a tent actually just gives out a message to thieves saying hey, valuables enclosed.
Storing valuables in a locked car boot is a better option. You could also invest in a car boot safe or strong box for added security. Or ask the campsite owner if they have a safe you can make use of.
But if you just can't avoid leaving something behind in your tent, avoid all those obvious hiding places, because thieves will simply make a beeline for them. Typical places include in the bottom of the sleeping bag, or under the camp bed. Both are total no-nos.
If you have larger items you want to safeguard, perhaps an expensive stove or a bicycle, use a cable lock to secure them to a pole or a tree. Choose a well-lit place that's in full view of the rest of the site.
4. Lock your tent with care
If you want to lock your tent, get yourself a small cable lock or padlock. These can be used to lock the two zippers together.
Combination padlocks tend to be a safer bet than key models, especially if you're not great at keeping track of keys.
Do remember though that locking your tent at night isn't always the right thing to do, especially if there's an emergency or you need to escape to the loo in the early hours. A shoelace is a better idea to keep the zippers secured, as you'll be able to undo it easily in an emergency.
5. Stay safe at night
Night time is probably the most likely time opportunistic campsite thieves will be about. Always zip your tent up fully, including the fly mesh.
Stash any valuables into a bag, and place them at the bottom of your sleeping bag, then zip it up fully. Never leave valuables in an obvious bag at your side. You'll feel better with your stuff by your side, and if someone is trying to get to it, they'll wake you up.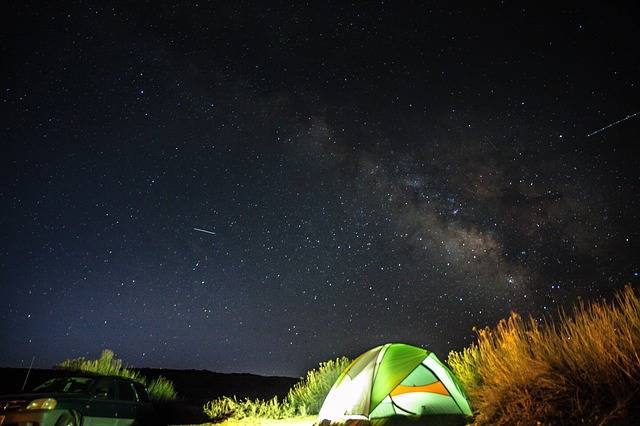 6. Don't leave stuff on view
When you're onsite, maybe cooking up a hearty meal or enjoying some campfire games with the family, make sure you don't leave any valuables on show.
Keep the tent doors shut whenever no one is in it. And keep valuables like mobile phones on your person.
Finally, if you're heading off for the day, stash the likes of furniture and cookware in your tent, rather than leaving them outside under the awning.
Off camping soon? Stay safe, and enjoy your trip!
You can't beat being out in nature, sleeping under the stars and waking up to a brand new day surrounded by fresh air and the beauty of nature. Staying safe and keeping your belongings secure will make your experience all the more memorable, for all the right reasons.
Need some camping kit? The Outhaus store has all you need to stay warm, sleep sound and cook up a storm.