Sarah Mac on 18th Feb 2021
Looking forward to getting back out into the fresh air and cracking on with some good old fashioned camping and campfire cooking? Us too. And we have just the thing for you. With a new line recently added to our cooking range, the temptation to talk food this month was just a tad too much. So here you are… the lowdown on the Dutch oven, complete with our top picks of Dutch oven campfire recipes. Prepare those taste buds…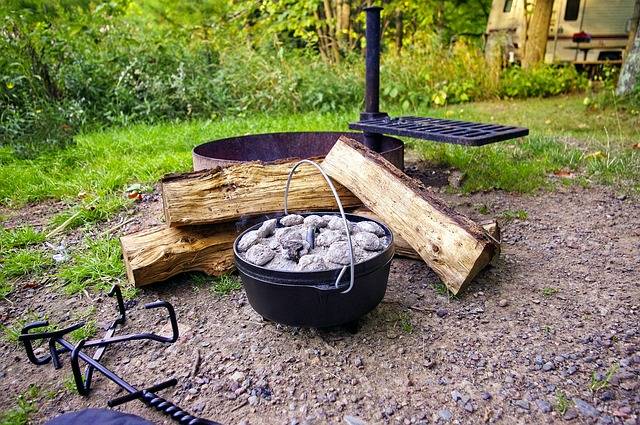 What is a Dutch oven?
From baking and braising to roasting and broiling, when it comes to the ultimate one pot wonder, the Dutch oven has it in so many ways.
Perfect for campfire cooking, Dutch ovens, also known as French ovens, are large cast-iron pots that have a great knack of maintaining their heat. But it's their versatility that makes them such a draw. You can bake, roast, brown, sear, broil and even deep fry in a Dutch oven. Opt for a larger size and you can roast an entire chicken. You can even bake bread in one.
With the Dutch oven, it's all in the detail. There's a robust handle for safe lifting. Feet on the bottom to keep the pot secure. And a thermometer for checking the temperature without lifting the lid and letting all the flavour out. Because of its robust construction, it's no problem to put this pot directly on the campfire and scatter a few coals over the lid to distribute the heat evenly. But this is a cooking pot that's equally at home on a barbeque or traditional stove. And the best bit? It's a breeze to clean. No scouring required. Bliss.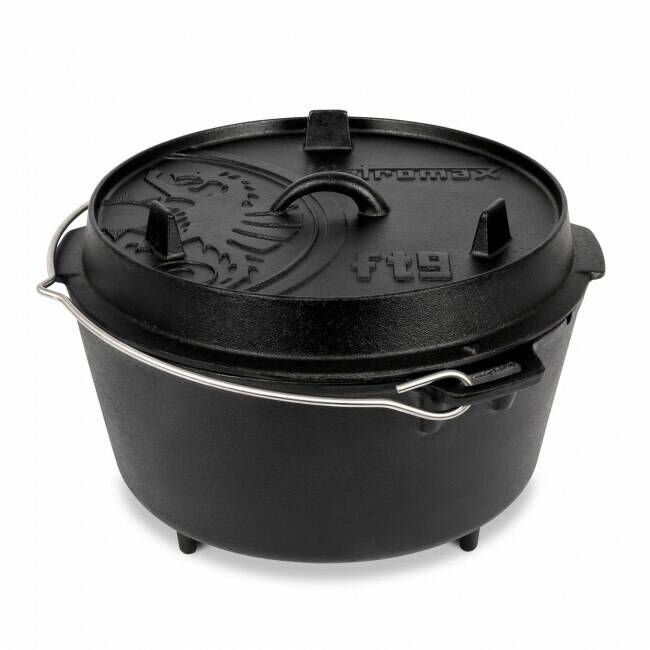 So, there's clearly lots to love about the Dutch oven. But what to cook in it? Read on for a few tasty ideas to whet your appetite for those hazy days of outdoor freedom that lie ahead.
1. Hearty Hash
Breakfast, brunch, lunch or supper, a hearty campfire hash never fails to please. This is a truly simple all-in-one recipe that you'll thoroughly enjoy sharing any time of year.
Slice some sausages and potatoes and throw into the pot with a few rashers of bacon, then crack an egg over the top and let the Dutch oven do its stuff. Fancy spicing it up a bit? How about adding a handful of chopped chorizo, a few sliced red or green peppers, or some black pudding to the mix? Whatever you make of it, a hearty hash is the perfect fuel for a full-on day ahead in the great outdoors.
2. Campfire Chilli
Some like it hot, and that's definitely how you'll find this sizzling campfire chilli! Perfect as a one-pot wonder, this is something you can quite easily switch the meat for to make it into a veggie dish.
Simply fry off a few chopped onions, add a bit of garlic and throw in some minced beef or a veggie alternative. Then stir in some tomatoes, kidney beans and dried or chopped fresh chilli. Pop on the lid, then grab a drink and sit back and relax while your dinner simmers over the campfire, and the heat intensifies.
3. Veggie Lasagne
Yes, you can make a lasagne on a campfire! And a Dutch oven is the perfect way to do it. This is a really simple recipe, ideal for teatime after a long day out in the fresh air. All you need is a jar of bolognaise sauce, some fresh lasagne sheets, a jar of white lasagne sauce, a bag of spinach and some grated cheese. If you want you can chop a few peppers and slice a bit of courgette too.
Add a layer of bolognaise sauce and your optional veggies to the bottom of the Dutch oven, followed by a layer of pasta, then some spinach. Then spoon some of the white sauce over. Repeat with another layer of bolognaise sauce and veggies, then the pasta and spinach followed by a final round of white sauce. Then sprinkle over your grated cheese. If you have a black pepper grinder to hand to finish off, all the better. Be sure to only fill the Dutch oven to three quarters full. Your lasagne will take around 40 minutes to cook, although do lift the lid occasionally to check how it's all going.
4. Fruit Crumble
And for dessert? It just has to be a scrumptious fruit crumble! All you need is some fruit of your choice, foraged if you please, and a crumble topping, pre-made if you prefer to spend more time enjoying and less time preparing.
Tumble the washed fruit into the Dutch oven, then sprinkle some sugar and squeeze in a little lemon. Top it all off with your crumble mix. On goes the lid, then it's just a waiting game of around 40 minutes until your afters is ready to serve.
Taken by the idea of a Dutch oven?
The versatility. The simplicity. The fun. If you're looking for a great way to cook breakfast, lunch or dinner, or anything in between, a Dutch oven makes the perfect choice for the great outdoors. Make your selection from one of the seven sizes available, and don't forget your lid lifter and briquettes. Happy cooking!